When running a project that involves getting other people to do things on a regular basis, it's important to communicate clearly, and often.
There is a lot that goes into that, but let's get started with the basic tool kit being used to run Earth Is Huge.
In order to keep up with posting duties, I'm employing a few tools:
Facebook Pages
Twitter
Tumblr
Xkit for Tumblr
IFTTT
Pinterest
Buffer
Google+
Other tools for getting the word out:
Having an IRC channel
Mailing list (best handled through a service like MailChimp)
Using a multi platform tool such as Hootsuite
There is a LOT that can be said about every single one of these tools and how they're used, but let's touch briefly on some of the more chief ones in my arsenal:
Facebook Pages, Tumblr(+xkit), Buffer, and IFTTT are all critical, because they allow for two very important things: queuing posts and reposting to other platforms.
Tumblr and Facebook Pages allow you to queue posts well into the future, which means you could carve out an hour or two and plan out a whole month of basic but important posts; in the case of EIH, things like submission reminders, links to contributor efforts, and links to past issues are all handled via queue.
IFTTT and Buffer automate copying posts between platforms (or at least sharing links to the content on the different platforms).
Facebook Pages –
First of all, I want to stress that it's important to have a PAGE not a PROFILE. Pages have special tools and reports that regular people profiles don't have, and perhaps more importantly, liked Pages do not get to see all personal profile information the way a friended Profile does.
Using Facebook Pages to keep up with posting on a regular basis is great for two reasons: Writing and queuing posts is dirt simple, and if you connect your Twitter account you're automatically adding posts to Twitter too.
Tumblr –
Tumblr allows you to reblog and set up a queue of posts. This can either be done through automatic posting at set time frames at a set rate, or you can go into your queue and manually schedule posts.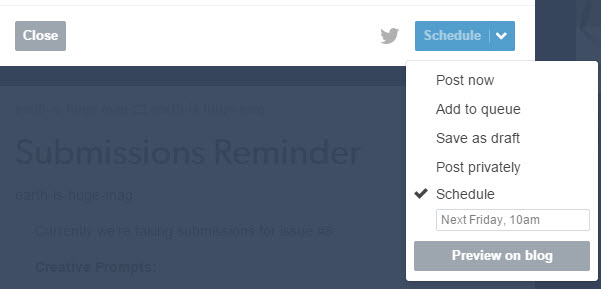 XKit –
XKit makes reblogging BETTER by allowing you to go through your own timeline of posts (or posts of people you follow whose work you want to reblog) by allowing you to do quickly add posts to your drafts or queue via the feature called One-Click Postage. Auto Tagger is also of critical help, because it means you can pass the tags from the original post to the reblog. This is especially helpful when reblogging things with content warnings or with tags that you use often.
IFTTT –
IFTTT stands for "If This Then That" and it is a lifesaver for automating the cross posting of content from one social media site to another. They have 164 "channels" that you can connect to, and once you've connected at least two channels – such as your Facebook Page and your Tumblr – you can automate the process of posting your Tumblr content to your Facebook Page, or vice versa. IFTTT deserves its own post and that will definitely be coming, but it is totally a lifesaver.
Buffer is another tool you can use to schedule and automate posting on social media. It's a bit more focused than IFTTT. Right now I'm honestly only using it as an intermediary in order to queue up posts to the Google+ page.